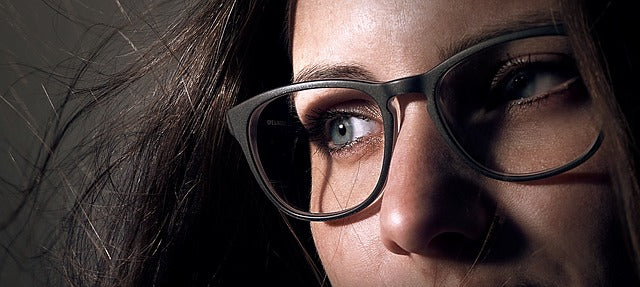 5 Secrets to Get Your Makeup to Pop Behind Your Frames
5 Secrets to Get Your Makeup to Pop Behind Your Frames
Wearing glasses used to be considered unattractive or unpopular, but with a larger variety of styles available, glasses have become something of a fashion statement. However, when you are working with glasses and makeup, it can get a little tricky to balance. Here are few secrets to help your makeup pop, even when you have to wear your glasses.
Go Bold
Understated makeup may look washed out or even non-existent underneath glasses. To make it stand out, use bold colors on your eyes or go a little heavier on the application. A smoky eye would look perfect behind your frames, but make sure you don't overdo it. Anything that is extending beyond the frame is going to look at little weird, so make sure you know how much space your glasses cover on your eyes.
Enhance Where You Can
Eyelashes can change a person's entire look. Many mascaras will add volume and curl to your lashes, but nothing makes them stand out like extensions do. Extensions are made from both synthetic and natural materials. There are offerings from temporary to semi-permanent, which can stay on for up to four weeks. Be careful when selecting the length of your extensions. You want something long and beautiful, but you don't want eyelashes so long that they brush your glasses when you blink.
Pick the Right Frames
Choosing the right frame for your face is crucial. Finding prescription glasses that match your look can add so much to your style. If you choose a frame that is too overpowering or doesn't fit with the shape of your face, they will not only be uncomfortable to wear, but they also won't look good. Bring a friend with you when picking out frames, or ask the advice of a salesperson when making a selection.
Focus on the Brows
Full, manicured brows are the latest trend right now. Microblading has become a very popular option for those looking to enhance their brows without applying makeup every day. If you weren't blessed with perfect brows, make sure to tweeze excess hairs away and fill in with a brow pencil or powder to make them stand out.
Don't Forget the Lips
You may think focusing on the upper portion of your face is how to get your makeup to stand out, but the lips are just as important. If you are self-conscious about your glasses, highlighting your lips can be a great way to go. Make sure to apply a color that matches the style of your frames to achieve an even look. If you have daring glasses, wear a dark red lip color to balance it out. If your frames are more subdued, a neutral lip color will go perfectly with them.
Wearing glasses doesn't mean that you can't look stunning, especially if you use the proper techniques to highlight your features. Find a look that works for you and rock that.